<a href="http://www.tomoson.com/?code=TOPf0086bb8412cc982151bf21f4b450650″ rel="nofollow"><img style="display: none" src="http://www.tomoson.com/images/front/pixel.png" /></a>
Bright Outdoors Picnic Set
Looking for a picnic set?  This is an amazing picnic set.  Forget about paper plates and plastic forks and knives.. When you go on a romantic picnic, you want the BEST.. Please check this amazing picnic set out.. It's compact and easy to carry around in a bag or basket.  It's slim and light weight.
When you purchase this amazing picnic kit.. you will get a nice slim carrier.  Inside you will find 2 spoons, 2 forks, 2 knives and one butter knife.  You will also get a nice wine bottle opener.  Each of these are will made and durable.  You will also find 2 plates, 2 napkins and a cutting board.  All of these fit nicely in this compact case.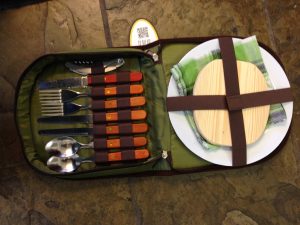 Please check this amazing picnic set out on Amazon – https://www.amazon.com/dp/B016HQ96E6
It's priced just under $25 dollars.. If your a prime member on Amazon, you won't have to pay shipping..
I received this picnic set at a discount for my honest review..
<a href="http://www.tomoson.com/?code=BOTTOMf0086bb8412cc982151bf21f4b450650″ rel="nofollow"><img style="display: none" src="http://www.tomoson.com/images/front/pixel.png" /></a>