Dust Pan with Brush and Handle, Shower Squeegee, Scrub Brush, Toilet Bowl, Tile, Grout, or Sink Brush with Comfort Grip – 5 Piece Set – Blue – Everything You Need for a Clean Home
by SpruceBay
#dustpan
This set comes with several pieces. The dustpan has its own brush and the two work easily together. It would be nice if the brush handle snapped into the dust pan for storage. The pieces are light weight because the plastic they are made from does not weigh much. They have special grips on the handles making them easier to hold.
The triangle brush makes it easy to get into corners. The set is a convenient all-in-one purchase.
The entire set cost about twelve dollars, you get what you pay for. It works great for cleaning, I cannot see it lasting for years and years.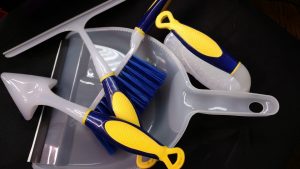 You can get yours here: https://www.amazon.com/dp/B01F80DLG6
KEEP YOUR ENTIRE HOME CLEAN: There are multiple surfaces to keep clean in any home, so making the process simpler is a must. With this set of four cleaning tools, you can tackle everything with ease and get back to what matters most.
• IDEAL FOR MULTI-PURPOSE USE: You don't need tools that only perform one task; you need items that can serve more than one purpose. The Blu Monaco Cleaning Tool Set is just what you need: four tools that can be efficiently used in many ways.
• EASY TO USE AND STORE: In life, the best experiences are easy. Cleaning is no exception; the easier it is to keep your home clean, the better. This cleaning tool set features a comfort grip that makes it easy to use and its size also means it's a breeze to store it for the next time you'll need it.
• MAKES A GREAT GIFT: Know a new homeowner or newlywed? This set is the perfect gift to get them started on their journey into home ownership and keeping everything orderly and clean. How thoughtful!
I received this item discounted or free in exchange for my feedback.