Patch-Up Kit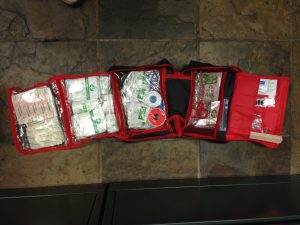 This is a GREAT Patch-up Kit..  This Emergency kit is perfect for Home or Car.  It's perfect for taking out on the boat or on a hike.  I feel this would also be great for taking when kids are doing sports.. It's perfect for patching up scrapes and bruises.. It would be great to have at the park if one of your kids fell down and got hurt.  This is just an all round great emergency kit for home or outside. It has almost everything you need for a simple scrape or cut.  If your out camping and your child feel's warm and your worried he or she has a fever.. this kit has an emergency thermometer..  It's packed with bandaids and tape, and bandages for all kinds of cuts and scrapes you get while outside camping or hiking..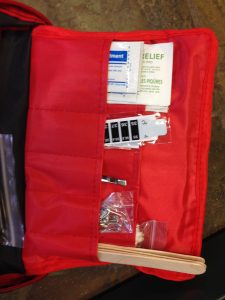 This emergency Patch-Up Kit comes with many things you don't think your going to need in an emergency.. It has an ice pack.. perfect for sporting events when your child get hurts.  It comes with an emergency blanket.. perfect if your hiking and run into trouble..  Scissors for cutting the bandages or clothes in an emergency..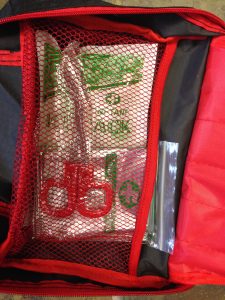 You also get ointments for cuts and scrapes so you don't get infections..Bee sting medication perfect for the park or camping.. Alcohol pads for cleaning your cuts..  tweezers for getting stickers out..  Hand wash cleaning wipes.. perfect for keeping your hands clean while helping your child with a scratch or cleaning around your child's scrape.  gloves perfect for keeping you safe while your working on someone.  The nice thing about this Patch-Up kit is that it's re-fillable.. If you use something and get low on bandaids.. You can always re-fill things you use.. The case is perfect for organizing everything and keeping it all safe until you need it..
To purchase this Great Patch-Up Kit… Please go to Amazon – https://www.amazon.com/Kit-Patch-Up-Pieces-39-Compact-Waterproof-Nylon-Home-Car-Boat-Sports-Outdoors/dp/B01AA5MUDE?ie=UTF8&*Version*=1&*entries*=0
This great First Aid Kit has 39 unique medical items totaling 270 pieces..  It's less then $50 on Amazon and if you have a PRIME membership.. you will get free shipping..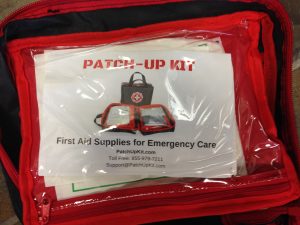 I received this kit at a discount for my honest review..