Master TC-77 Super Quiet High Performance Airbrush Air Compressor Hobby Tattoo
by Master Airbrush
#tcpglobal
I have used this air compressor for a few weeks now. I can use an airbrush constantly without breaking.
I have used an old one for years now. The difference is night and day. This air compressor is quiet and has a lot of cfm keeping the brush spraying non-stop.
The air tank is smaller and the compressor fills it as needed. It also has a holder for the airbrush.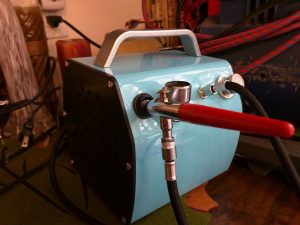 You can get yours here http://www.amazon.com/dp/B006ACCPQ4
Quiet Powerful 1/8 Horsepower Compact Compressor that delivers (18 ltrs/min) of air flow; Precise Air Adjustment with regulator and gauge; Portable with the built in handle
Compressor has a small air tank the allows it to deliver air with constant pressure & zero pulsation!
An ideal compact work station compressor! Includes a built-in airbrush holder and a 6′ braided air hose with a mini-inline moisture filter
Supports airbrushing for most airbrush types, applications, paint and color media and levels of users from beginner to advanced artists
Suitable for hobbies, crafts, nail art, auto graphics temporary tattoos, tanning, cake decorating, etc…
I received this product at a discount or free in exchange for a review.