5 Position Mop And Broom Holder Organizer – Come With 2 Extra Single Holders – Holds Up to 11 Tools – Strong, Sturdy, Long Lasting – Holds Great – 1 Year Warranty – By DOKO-IN
by DOKO-IN
#DOKOIN
This mop holder is extremely well made and you can feel it when holding it. I love how it holds onto the handles and lets them go when you remove them. It is the perfect size to hang just about anywhere. Please go and check it out. It is priced o sell at under $12 shipping included. Clean up that cluttered closet for almost nothing. This holder is a must in every home.
You can get yours here http://www.amazon.com/Position-Mop-Broom-Holder-Organizer/dp/B018ELBN2U?ie=UTF8&keywords=mop%20and%20broom%20holder&m=A4OMNVKNVPZM8&qid=1460469999&ref_=sr_1_1&s=merchant-items&sr=1-1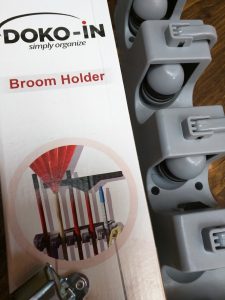 I received this product at a discount or free in exchange for a review.