Desk Lamp, Oak Leaf 10W Modern Design LED Touch Table Lamp (Eye-care,3 Lighting Modes, 5 Dimming Levels)
by Oak Leaf
#oakleaf Beautiful lamp and at a great price. I love how it looks on my desk and the light is perfect for me. It has a sleek design and the light tilts/rotates from side to side. The buttons are flush on the mount adding to the overall design, keeping it modern and sleek. This lamp would look nice in most any décor.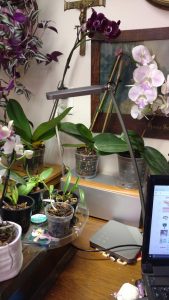 You can get yours here http://www.amazon.com/dp/B013QT3CUQ
SMART TOUCH MODE: Highly sensitive touch button makes this Student Desk Lamp light up the room conveniently. Simply slide your finger along the controller groove in the lamp base to choose between 3 lighting modes (study, relax and bedtime) and 5 dimming levels.
EYE-CARING: The Oak Leaf Dimmable Desk Lamp enjoys comfortable, non-flickering light for stress-free productivity and down-time. Light emitting panel provides powerful yet even light without harsh glare or shadows.
ECONOMICAL & ECO-FRIENDLY: This power-saving LED Touch Table Lamp lasts over 25 years, so you never have to change a bulb again. Solid base with non-slip material ensures strong overall stability. Built-in USB port charges smartphones, tablets and e-readers.
2016 BEST DESIGN STUDENT LAMP: Luxury Chic modern design that will naturally fits in any space; try it with your office, bedroom, study or living room. Adjustable lamp-arm with turnable base ensures you're able to get the perfect angle.
100% USER SATISFACTION & FRIENDLY CUSTOMER SERVICE: We have a commitment to every buyer 100% user satisfaction. After all, we are customers, too, so if you have any problem about our Oak Leaf Desk Lamp, just contact us, we'll get it resolved as soon as we can. You Can Rest Assured That Your Investment is Protected.
I received this item discounted or free in exchange for my feedback.