Sunmas Tens Ear Clip Microcurrent Sleeping Aid Machine
from SUNMAS
#sleeping
I am unable to make it work for me. I have only had it less than 2 weeks and I asked the company for more time. After no response from the company, I am forced to do the review now.
I do believe in acupuncture, etc. and I know there is so much about the human body that we do not yet know. I had high hopes for this device to work and I still believe it may work.
It is not working for me.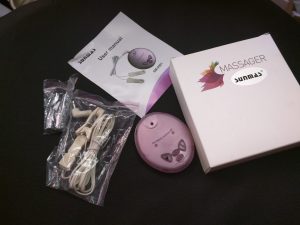 You can get yours here http://www.amazon.com/SUNMAS/dp/B00E4C7IK0/ie=UTF8?m=A217F1KSY8QRCI&keywords=sleeping+machine
Small, Lightweight and portable, ideal for using at home, in the office and while traveling in a car
Ear clip port size:2.5mm.
Improve the quality of sleep and prolong asleep time.Make the patients shake off, and regain normal sleep state
Massage function, it can be applied to Sleeping Device Massager
Adopting hi-tech chip, low voltage power supply (3V), safety, and reliable.Ear clip microcurrent Relaxation.
I received this product discounted or free in exchange for my honest opinion and review.