Artofcolor-Colored pencils,best set 48 multicolored,watercolor,High quality,for artists,coloring books,drawing,painting-For adults and children,with roll up case,brush,eraser,ruler,AUTOMATIC sharpener
#Artofcolor
I love coloring with water-color pencils. These pencils were easy to sharpen and not one lead has broken so far. Every pencil has a centered lead. They came with a paintbrush, and that would be nice if you do not have your own. This set is convenient because of the included accessories. It makes for an all-around great gift idea or traveling entertainment, all you need to add is the paper. I used water-color paper in the attached photos. They arrived in a tin container, which I like a lot, but they also included a canvas wrap. These pencils are very nice, even without the included accessories.
I recommend buying a set of nice paint brushes in different sizes. I would recommend red sable brushes, as they hold water well for water coloring. These colored pencils from Art of Color were delightful to color with.
These pencils are also great for kids. I love the artwork completed by this little Princess.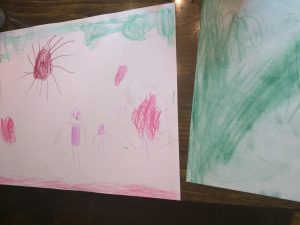 You can get yours here http://www.amazon.com/dp/B01B36ZP5O
SAFETY, HIGH QUALITY AND DURABILITY – Our pencils are non-toxic, and safe for your health. Made from high quality materials and constructed with a strong rod. These pencils will provide strength while drawing and confidence in non-breakage and longer pencil life. Years of experience and strict quality control in our company provide high quality product for you.
ABILITY OF USE IN DRY AND WET ENVIRONMENT – Our diverse watercolor pencils allow you to work on wet or dry surfaces, meaning you can use them for drawing, coloring or painting in aquarelle. Which makes them very unique !
SUPERIOR BLENDING AND SHADING – Soft lead and high-quality pigments create a smooth and rich color saturation. Our Coloring Pencils give you more deep selection of color mixing. With 48 gorgeous colors and hues, you can create beautiful and original works of art.
COMPACT PACKAGING, AND FREE BONUSES – 48 luxury watercolor pencils in the stylish triangular metal packaging, with easy to carry roll up case . The set is completed with free sharpener, ruler, eraser, brush and Automatic pencil sharpener with extra replaceable blade for fast, comfortable, safe sharpenning. The Best Set for Kids, Students, Amateur and Professional Artists!Express your artistic nature !
MONEY BACK GUARANTEE – We stand behind our product and offer a 100% money back in 90 days period, to protect your investment. Gaining popularity, our product will be more expensive. Has never been a better time to order now !
I received this product discounted or free in exchange for my honest opinion and review.