Xinge D3866L-W Women's Rose Gold Tone Roman Numerals Bangle Watch and Bracelet Set
#watch
This watch and bracelet set is absolutely breathtaking. I love the white pearl band along with the rose gold tone. Absolutely breathtaking. The watch has a clasp that is easily opened and closed with one hand. The bracelets have a clasp I have never seen before. You squeeze the bracelet and unhook it to open and close. Very easy to do with one hand. These were designed with style and convenience in mind.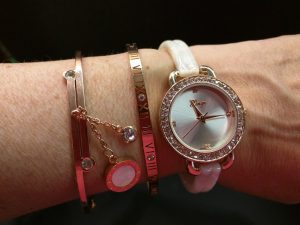 I have a white purse from Coach, and when I wear this watch with that purse, they look like they were made for each other. They packaged the delicate pieces inside a fancy gift box, wrapped around a soft white pillow. This is a very nice gift any woman would love to have. I love it.
You can get yours here http://www.amazon.com/dp/B01BW84EGE/watches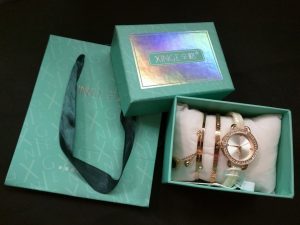 Imported
27 mm diameter case with 6 mm thickness
7.6 inch Acrylic and alloy band with jewelry-clasp closure
Round watch featuring crystal-accented bezel and indices
Japanese quartz movement with analog display
Waterproof but not suitable for swimming
I received this product discounted or free in exchange for my honest opinion and review.