Ulitmate 10 piece baby grooming and health care kit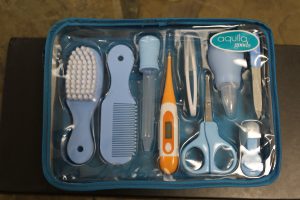 If your looking for a baby shower gift or home coming gift after having a baby, this gift would be perfect.  It has almost everything you need to bring home a baby..  It's nice to have everything all at once and not have to buy everything separate.. In this kit, you get 10 useful items.
You get..
hair brush.. it's very soft..
comb – the little balls at each end  of the comb make's it soft..
medicine dropper – very useful and works great
digital thermometer – compared it with one I have, they came out with the same number..
tweezer's – plastic – great for getting buggers..
scissors.. work's okay
nasal aspirator – works great
nail clippers – they work great
nail file – works great also…
Lastly – a great cast to put everything in and carry the in your diaper bag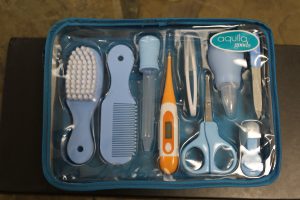 I watch my nephew everyday for 5 hours.. I personally used these items and feel they work great and they are very useful.
To purchase this great baby kit.. Please got to Amazon – http://www.amazon.com/dp/B01AKXMGTY
It's a great deal at $12.89 PRIME  .. so if your a prime member.. free shipping.. great deal..
I received this at a discount for my honest review..