GL-Sail(TM) Premium Gel Color Pen for Arts & Crafts, Adult and Children Coloring Books, Scrapbooks(Pack of 12)
by GL-Sail(TM)
#gelpensil
I love using these gel pens. I spent some time with these pens on several different platforms. First of all I used them in my favorite way, accenting colored pencils. Fine tip gel pens add the most elegant detail to colored pencil. The fine tips allow adding the most delicate to very dramatic enhancements. I have a coloring book with dragons and I showed with and without the detail in the scales.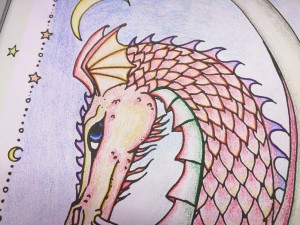 I also love these pens for decorating cheap dollar store cards. The possibilities are endless when it comes to cheap dollar store cards. I also add bows and glitter to make them gorgeous.
You can get yours here http://www.amazon.com/gp/product/B01CZD5LHQ?m=A1WNPX8D1DK51I&qid=1458574213&ref_=sr_1_12&s=merchant-items&sr=1-12
1. 12 Exclusive Assorted Colors: A variety of colors includes blue, black, red, green, purple, brown, grass green, yellow, pink, aubergine, cyan and orange. The colors are bold and vibrant, but never bleed through paper.
2. Practicability in Use: Ideal for Scrapbook, Drawing, Coloring, Greeting Cards, Crafting, Doodling, Decorating, highlighting& underlining text books and More! All in all, the 12 gel color set can be used in wide variety of craft creation.
3. Ultra Quality: these pens are comfortable to hold and inks flow smoothly and vividly out of pens with no skipping. The fine tips are not only suitable for general drawing&writing, but also allow you to color intricate pattern with ease.
4. Easy and Convenient to Carry-on: Transparent plastic case help your color pens are always in organized order, which never mess with other stuff in your bag. And each gel pen can be stored in its own individual insert and comes with a cap for long-lasting use.
5. Perfect Presents Both for Children and Adults: the pen has a cute little gem on the tip of each cap,which is an appropriate present for adults who enjoy artistic and beautiful stuffs.
I received these pens discounted in exchange for my honest opinion and review.