Sonixx BTX1 Kids Bluetooth Headphones (Pink)
by Sonixx
#btx1review
I love that these headphones are cordless!! And even better they are bluetooth. My daughter loves to play with her IPAD while her Daddy and I are watching TV in the evenings, and she sometimes gets it blasting too loud. These pair up perfectly with her IPAD, and she loves that they are PINK!!
These headphones are also really nice for traveling. We fly to California often, and keeping my 4 yr daughter entertained on the airplane, without bothering anyone else, can be difficult.   These headphones are going to be a lifesaver the next time we fly.  These headphones also fold up really well for storage.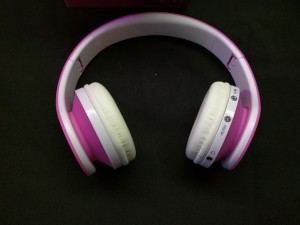 You can get yours here http://goo.gl/LAVSsZ
Kids can listen anytime, anywhere – these portable bluetooth headphones offer high quality sound and wireless connectivity
Omnidirectional inline microphone easily picks up your kids' voice, and inline controls allow them to answer the phone when they're on-the-go!
Universal compatibility – works with iPhone, iPad, iPod, Android phones, tablets, PCs, portable gaming systems, and any device with a standard 3.5mm headphone jack
Wireless Bluetooth connectivity – simply detach the audio cable and connect to any Bluetooth-enabled device to allow your kids to listen wirelessly
Built with children in mind – the lightweight yet sturdy design of these headphones makes them extremely durable, and the earpads are soft and comfortable even after long hours of use
I received these headphones discounted in exchange for my honest opinion and review.