Premium Cheese Slicer & Chocolate Truffle Shaver Grater – Highest Quality Italian Made Stainless Steel – Adjustable Razor Sharp Blade – Elegant Lightweight Durable Design – By Chefsperience
by Chefsperience
#Chefsperience
This cheese slicer arrived wrapped in plastic and very beautiful and shiny.
This slicer has a screw on the side to loosen and tighten the blade. I sliced the cheese paper thin and then I loosened it a bit and sliced some more. This would be awesome on chocolate and truffles. You can see in the pictures how nicely it slices. I can't wait to use it on carrots. I love that it is stainless steel and I do not have to worry about it rusting. It is very professional looking and would look good in any kitchen.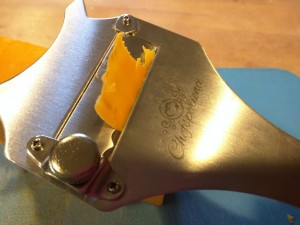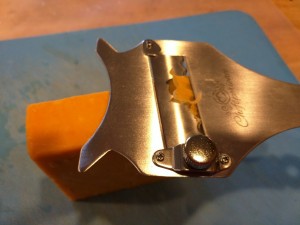 You can get yours here http://www.amazon.com/dp/B00ZEBUFX2/
DURABLE & LONG LASTING QUALITY: Highest quality Italian made stainless steel, able to cut through cheeses and chocolates with little to no effort. Our heavy duty slicer will not absorb flavors when slicing and shaving truffles or cheese. Beware of others who are selling cheap, low quality slicers, shavers and graters.
ADJUSTABLE RAZOR SHARP BLADE: Features an adjustable blade so you can control the thickness of your chocolate and cheese slices. The razor sharp serrated blade adjusts from paper-thin to .13 inches, perfect for ingredients and garnishes.
USE IN MANY DIFFERENT WAYS: Creates attractive slices for cheese trays, antipasti, sandwiches and more. Ideal for all common semi-hard cheeses. Also use it as a garlic slicer, a chocolate truffle shaver and so much more!
NO-RISK, LIFETIME GUARANTEE: Your purchase today is covered 100%. Try out the product for as long as you want and if anything ever goes wrong with it (which likely won't happen, but just in case…), contact us and we'll be happy to send you a brand new replacement at no charge or refund you completely.
CLICK "ADD TO CART" NOW: Start enjoying perfect cheese slices and elegant chocolate truffles. And share the love! Buy a second one as a gift for a friend or family member that will last for years!
I received this slicer complimentary in exchange for my honest opinion and review.