US Art Supply Solana Adjustable Wood Desk Easel with Drawer, Premium Beechwood
by Us Art Supply
#usartsupply
I usually do my drawing on the sofa in the evenings while my husband watches the TV. I got this desk easel to sit on my lap and hold my sketch pads at a good angle for me. It has replaced me sitting there with the pad of paper on my knees and trying to hold it at the right angle with my knee. This desk easel is solid wood and has a drawer on the bottom that has a snap closure on the side. It is really easy to change the angle of my paper with the sliding back.
When it is folded up for portability, it has a snap that holds it together.  It has a nice handle for carrying it around.
If I could change one thing, it would be for them to add a bottom piece of wood under the drawer. The bottom of the drawer is the bottom of the desk easel. The drawer is not so easy to open when on my lap.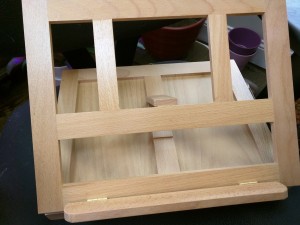 You can get yours here http://www.amazon.com/dp/B00EV2JN2O
Portable tabletop storage box that converts to a painting easel with 1 easy adjustment
Has a drawer with three compartments to hold brushes, and other essential gear
The easel incline adjusts to four positions and will accommodate a canvas up to 11″ x 14″
Accommodates canvas art and prints up to 11 x 14 inches
An easel that adjusts to four different positions
I received this desk easel complimentary in exchange for my honest opinion and review.