Hair Cutting Shears – Made in USA – Cobalt Molybdenum Retains Edge 5x Longer Than Stainless Steel – 6″ Right-Handed Barber Scissors – Professional Grade, Salon-Tested Hair Clippers Relieve Stress
from Got Glamour
#GotGlamour
These scissors are built to fit perfectly in your hands. The detachable finger rest is more helpful than one might think. It helps to open and close the scissors, as well as resting fingers. They cut smoothly and accurately, as if the hair is not even there. I got a photo of the bangs I cut for my reluctant little model. So much easier and quicker to use these scissors on children, who are impatient as it is.
You can get yours here http://www.amazon.com/dp/B01D9G6SVG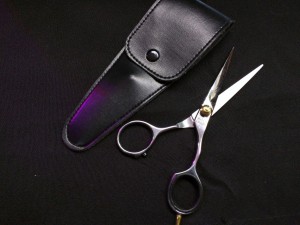 MAKE CLEAN CUTS IN COMFORT: Our USA Cobalt Molybdenum shears give you the long-lasting sharpness you need and the continuous comfort you deserve.
SHARP, SMOOTH AND QUIET: With a finely honed blade, detachable finger rest and rubber finger insert, these hair cutting scissors are built for long sessions in the barber shop, which means they're perfect for home use as well.
MADE IN USA: Quality Cobalt Molybdenum plus quality American workmanship means your shears will last and last – no matter how great your customer load. When not in use, slide them into their leather case for extra protection.
RELAX YOUR WRISTS AND SHOULDERS: The premium, right-handed offset grip relieves stress in both your shoulders and wrists, allowing you to cut a day's' worth of hair without the typical aftereffects. Plus, the tension adjustment screw lets you set the resistance of the blades just the way you like it.
HONED FOR THE SALON: You'll find our professional shears in salons across the country. So whether you're a barber looking for the most comfortable, efficient shears to add to your hair cutting tools, or a parent with a lot of hair to trim, these USA Made Cobalt Molybdenum shears make the grade. Order yours today!
I received these scissors complimentary in exchange for my honest opinion and review.