Coffee Capsule Tower Holder 36 Pod Capacity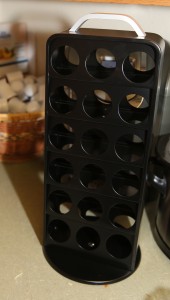 This is a great way to keep your K-cups off off the counter and organized.  This tower takes up little space and holds 36 pods.
I love this idea to save your counter top.  I love the idea of stacking 36 in a tower.  It's a great way to clean your counter and make it look nice.  This is perfect for home or office.
We buy our K-pods at Costco.. and our's K-pod's must be  a tad bit too big for this tower.  If it was just 1/4 inch bigger it would have been perfect.   We had a problem with turning it around, they would fall out.  When we would put one in on one side they would pop out on the other side.  I'm sure if you had the right size k-pods, this product would work for you.  We just buy ours in bulk from Costco and they are a tiny bit bigger.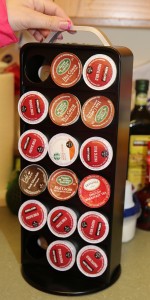 I was hoping to use this in our office, but it doesn't work.
This would make a great wedding present or house warming present for someone who uses the k-pods from the store.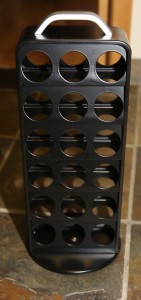 If you want to buy this k-pod tower – please visit Amazon – http://www.amazon.com/gp/product/B011I7FDBY?psc=1&redirect=true&ref_=oh_aui_search_detailpage
I received this at a discount for my honest review