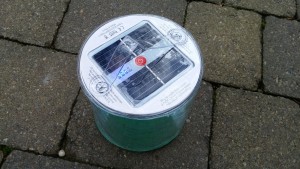 This solar lantern seemed like a great idea, but in practice it fell a little short. The first day I got it my 4 year old daughter, Kaelyn, immediately claimed it and played with it for quite a while. The 3 button remote it came with was also lost that evening. Luckily, it doesn't need the remote to function as everything can be done through the single red button on top. The 3 buttons on the remote were On, Off and a mode switching button which cycled through the colors (see pictures) as well as a mode that fades between all the colors and a strobe mode.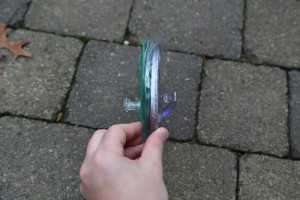 The best feature of it is that it's inflatable and packs flat which would be great for backpacking. It reminded me of the old collapsible candle lanterns we used to take (this was before the advent of LED flashlights that could provide light for hours on a tiny battery).
The lantern itself is reasonably bright, enough to see in a 8 or 10 ft radius.
My main issue with it is the solar charging. I put it on the windowsill for 2 days and it still wasn't at full charge, but it's mid December here in New York and the sun is just about as week and low in the sky as it is going to get. I wish there was a usb charging port, but I think that they left it out because it would compromise the waterproof nature of the lantern (everything is totally encased in the vinyl). It might still be a great lantern in the summer, but this time of year it isn't going to last very long.
It's available from Amazon for $14.95 at the time of posting here: http://amzn.to/1NgMaS8
Full Disclosure: I received this product at a discount in exchange for my honest review.