Smarson Home Dental Center, Water Flosser and Toothbrush, Attachments and Base Included
from Smarson
#smarssen
This is an awesome toothbrush and floss etc. kit all around. It is portable so you can take the toothbrush and water flosser with you. It is customizable allowing you to change the speeds. The handles are ergonomic. It comes with extra brushes and a tooth mirror. I have used an electric toothbrush for years, this is an all-around complete tooth repair center.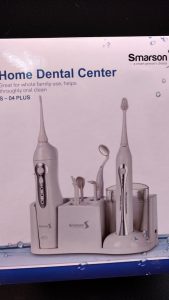 You can get yours here https://www.amazon.com/Smarson-Flosser-Toothbrush-Attachments-Included/dp/B01HSMASD6/ref=sr_1_20?m=A1PTBC1P4PIT8F&s=merchant-items&ie=UTF8&qid=1471530715&sr=1-20
Daily Use: Improve your oral hygiene by swapping out traditional oral care devices for the Smarson Home Dental Center. Remove more plaque and surface stains, while effectively cleaning gum lines and between teeth
Portable: Cordless toothbrush and water flosser allows you to take care of your oral hygiene anywhere. Equipped with a 100 to 240VAC adapter charger and cord with a charging time of 8 hours, perfect for traveling
Customizable Settings: 3 pressures modes (normal, gentle, and pulse) allow you to control the speed and intensity. Find the perfect speed for your needs, whether you have sensitive gums or looking to remove surface stains
Rechargeable and Powerful Design: Inductive charging provides 8 hours of usage on a full charge. Brush's pulsage helps massage and stimulate gums, while jet is perfect for cleaning around dental work
Other Features: Low power detection let's you know when to recharge the lithium ion batteries. Ergonomic handle allows for extra comfort during your daily routine
I received a promotional discount on this product.