Sehah Health – Ear Plugs – 50 Pairs with 2 carrying containers – Premium Quality Soft Foam For Sleeping, Construction, Studying
from Sehah
#SehahEarPlugs
I have been using ear plugs to sleep for years now. I have used the yellow disposable ones in the past. These new orange ones are of a different texture. They squeeze better to make them smaller for my ears. My biggest problem has been my smaller ears, all those large ear plugs hurt and do not expand to fit properly. These I am sure would expand to larger ear canals, but like I said the texture is different. It is softer. It expands to completely fill the gaps stop all sound. When inserted properly I cannot hear a thing, absolutely nothing. They are softer on the ears and they expand to fill the gaps. I cannot say enough, these are great.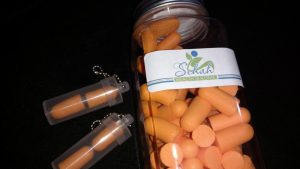 You can get yours here https://www.amazon.com/Sehah-Health-carrying-containers-Construction/dp/B01EIQTK0W?ie=UTF8&*Version*=1&*entries*=0
HIGH QUALITY – These 32 DB earplugs are of premium quality that will fit properly in ear while you sleep, hunt or simply read book in a noisy environment.
SLOW RISING – Our earplugs are slow rising and this is for a reason. The slow rise allows them to be placed properly in ear canal, and then slowly get into position to block most noise.
SOFT FOAM – These earplugs are soft and easy to use. They will not cause pain in ear canal as is the case in cheaper earplugs.
TAPERED – Our earplugs are properly tapered to ensure a great fit.
I received this item discounted or free in exchange for my feedback.