Cable Clips – ONME 12 Pcs Multipurpose Cable Clips, Cord Management System, Desktop Cable Organizer, Black
by ONME
#cableclips
These cable clips really cleaned up my desk. I have a phone charger cable and computer power cable that were unruly and spaghetti-ish. The clips look nice, they are a great price at under ten dollars with free shipping for 12 pieces. They are great, I love how my desk looks now. I can fit two phone charging cables in each clip. I can fit a single laptop charging cable in each clip. Those are the only cables on my desk and they go different directions. Very clean, neat and tidy.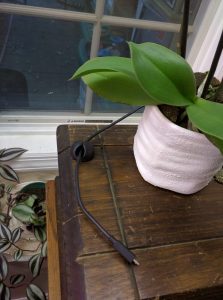 You can get yours here http://www.amazon.com/dp/B01G23R0K6/ref=sr_1_1?ie=UTF8&keywords=cord+organizer
EASY TO USE: Peel and stick with 3M adhesive. Easily mount to a desk, wall, table and other flat surface with permanent peel and stick backing
STURDY AND RESUABLE: Made of environment friendly silicone, long lasting plastic this eco-friendly cable organizer will easily make you gain time and money by increasing the life of your cables and freeing you from looking for them.
ORGANIZED AND MANAGEMENT:The cable clip can completely hold cable less than 6mm diameter on desk or wall. Will make sure that your cables are organized and easy accessible for when you need them
PERFECT SIZE:Sold in pack of 6 multi-purpose cable clips. Use this as a backup or as a great gift for any cable users in the family !
QUALITY IS GUARNTEED: you're protected by a 30 day, no-questions asked money back guarantee and world class customer service!
I received this product discounted in exchange for my honest opinion and review.